Connection Types
Spotlight Cloud can monitor the following connection types:
Use the Spotlight Cloud Diagnostic Server App to add connections
The Spotlight Cloud Diagnostic Server App is installed locally. Double click the desktop icon.

Sign in with your Quest account, and then from the Configure panel, click Connections.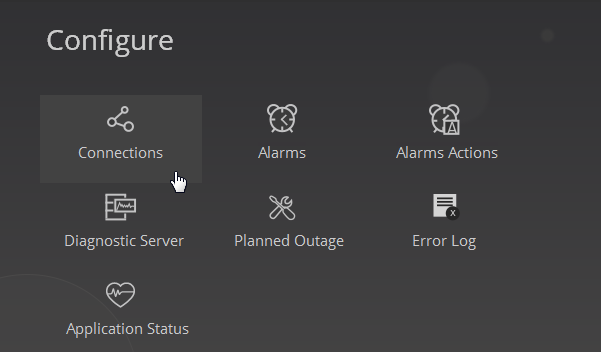 This opens the Spotlight Connection Manager
From the Spotlight Connection Manager, select the connection type to add.
Click Add new Connection.
You will be prompted to fill in the connection details.
Enter Connection Details
The connection details are dependent on the connection type:
The number of connections your organization is entitled to monitor in Spotlight Cloud is limited dependent on your Spotlight Cloud subscription. Once the limit has been reached more connections can be added but those connections are initially disabled. See Enable / Disable Connections. To manage your organization's Spotlight Cloud subscription see Billing & Subscriptions.
Connection Tags are a free form organizational tool that may be applied to Spotlight connections. Tag names represent a project, geographic region or other indicator of interest to you and your organization. Multiple tags can be assigned to one connection.